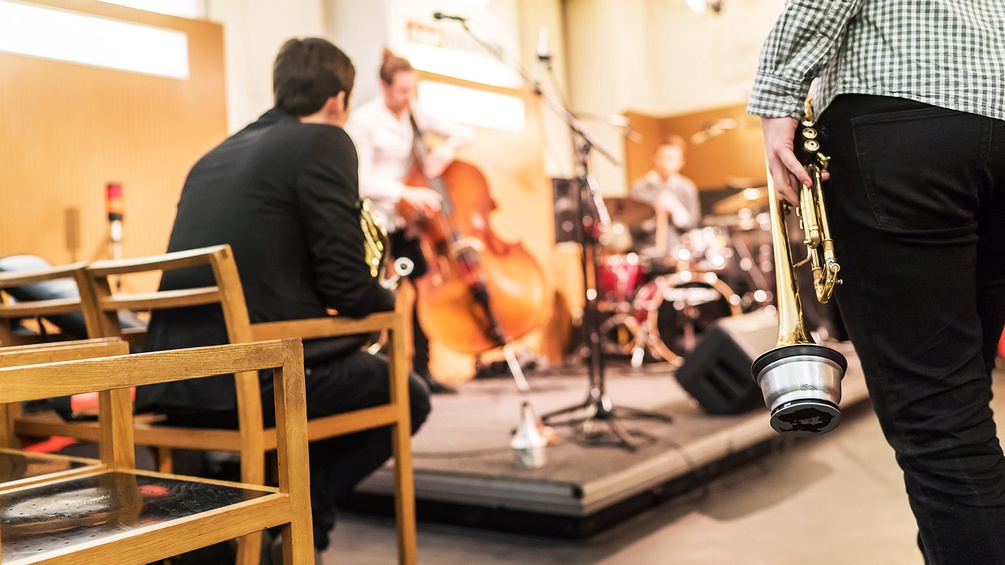 ORF/URSULA HUMMEL-BERGER
"5 Millionen Pesos": Der Steirer Gerhard Ornig
00:05 bis 01:00 Uhr
"5 Millionen Pesos": Four Seasons im Jazznacht-Studio

Ein formidables, 2015 initiiertes Quartett aus Graz macht neuerdings in Europa auf sich aufmerksam: "Four Seasons" war 2016 zum "12 Points"-Festival für jungen europäischen Jazz in die baskische Hauptstadt San Sebastian geladen. Und die Formation um den 27 Jahre jungen, fulminanten Steirer Gerhard Ornig, der u. a. beim Festival "Riga Jazz Stage 2015" als bester Trompeter und als bester Solist ausgezeichnet wurde, macht auch auf heimischen Bühnen ausgezeichnete Figur. Nikolaus Schauerhuber bittet die Band zum Studiogespräch.

01:03 bis 03:00 Uhr
"5 Millionen Pesos": Four Seasons im RadioCafe in Wien

Ohne Harmonieinstrument agierend, mit einer dynamischen Frontline ausgestattet, prunkt "Four Seasons" durch präzise, knappe thematische Vorgaben, die weite und doch kompakte Räume für kraftvolle, dann auch wieder elegisch-kantable Improvisationen öffnen. Die Besetzung ist eine internationale: Um Gerhard Ornig gruppieren sich der schwedische Posaunist Karel Eriksson, der griechische Kontrabassist Vasilis Koutsonanos und der brasilianische Schlagzeuger Luis André Carneiro de Oliveira. Nikolaus Schauerhuber präsentiert das Konzert der "Four Seasons" vom 19. Jänner 2017 im Rahmen der Reihe "5 Millionen Pesos" im Wiener RadioCafe, in dessen Rahmen das Quartett sein CD-Debüt vorstellte.

03:03 bis 05:00 Uhr
The Music of Fats Waller

Der schon vor rund 75 Jahren verstorbene Pianist hat mit seinem Stil und seinen Kompositionen in der ersten Hälfte des vergangenen Jahrhunderts die Entwicklung des Swing maßgeblich beeinflusst. Bis heute werden seine Stücke immer wieder gespielt. Alte Originalaufnahmen und neuere Interpretationen werden in diesen zwei Jazznacht-Stunden zu hören sein.

05:04 bis 06:00 Uhr
Musik zum Wachbleiben, Aufstehen und Schlafengehen

Mit Klezmer-Jazz von Frank London und alten Songs von Ella Fitzgerald geht es in die frühen Morgenstunden.

Playlist
Komponist/Komponistin: Gerhard Ornig
CD Titel: 4 Seasons - Long Ride
Titel: Long ride to Diemen
Ausführende: 4Seasons
Solist/Solistin: Gerhard Ornig, tp
Solist/Solistin: Karel Eriksson, tb
Solist/Solistin: Vasilis Koutsonanos, b
Solist/Solistin: Luis Oliveira, dr
Länge: 07:45 min
Label: Freifeld Tonträger #026

Komponist/Komponistin: Nils Wogram
CD-Titel: Nils Wogram, Root 70 - Luxury Habits
Titel: Luxury Habits
Ausführende: Nils Wogram - Root 70
Länge: 05:25 min
Label: Nwog Records - 017

Komponist/Komponistin: John Zorn
CD Titel: John Zorn / Masada Chamber Ensembles- Bar Kokhba
Titel: Mahshav
Ausführende: Ausführende: John Zorn Masada Chamber Ensemble
Länge: 05:00 min
Label: Tzadik - TZ 7108-2

Komponist/Komponistin: Karel Eriksson
CD Titel: 4 Seasons - Long Ride
Titel: Tenderless
Ausführende: 4Seasons
Solist/Solistin: Gerhard Ornig, tp
Solist/Solistin: Karel Eriksson, tb
Solist/Solistin: Vasilis Koutsonanos, b
Solist/Solistin: Luis Oliveira, dr
Länge: 03:30 min
Label: Freifeld Tonträger #026

Komponist/Komponistin: Gerhard Ornig
CD Titel: 4 Seasons - Long Ride
Titel: Sadness of the Time
Ausführende: 4Seasons
Solist/Solistin: Gerhard Ornig, tp
Solist/Solistin: Karel Eriksson, tb
Solist/Solistin: Vasilis Koutsonanos, b
Solist/Solistin: Luis Oliveira, dr
Länge: 07:10 min
Label: Freifeld Tonträger #026

Komponist/Komponistin: Karel Eriksson
CD Titel: 4 Seasons - Long Ride
Titel: Mino's Dream
Ausführende: 4Seasons
Solist/Solistin: Gerhard Ornig, tp
Solist/Solistin: Karel Eriksson, tb
Solist/Solistin: Vasilis Koutsonanos, b
Solist/Solistin: Luis Oliveira, dr
Länge: 02:25 min
Label: Freifeld Tonträger #026

Komponist/Komponistin: Karel Eriksson
Titel: Imitation
Ausführende: 4Seasons
Solist/Solistin: Gerhard Ornig, tp
Solist/Solistin: Karel Eriksson, tb
Solist/Solistin: Vasilis Koutsonanos, b
Solist/Solistin: Luis Oliveira, dr
Länge: 04:58 min
Label: Livemitschnitt

Komponist/Komponistin: Gerhard Ornig
Titel: Min Bass
Ausführende: 4Seasons
Solist/Solistin: Gerhard Ornig, tp
Solist/Solistin: Karel Eriksson, tb
Solist/Solistin: Vasilis Koutsonanos, b
Solist/Solistin: Luis Oliveira, dr
Länge: 08:09 min
Label: Livemitschnitt

Komponist/Komponistin: Karel Eriksson
Titel: Kloaka
Ausführende: 4Seasons
Solist/Solistin: Gerhard Ornig, tp
Solist/Solistin: Karel Eriksson, tb
Solist/Solistin: Vasilis Koutsonanos, b
Solist/Solistin: Luis Oliveira, dr
Länge: 06:11 min
Label: Livemitschnitt

Komponist/Komponistin: Gerhard Ornig
Titel: The Enlighted Pyramid
Ausführende: 4Seasons
Solist/Solistin: Gerhard Ornig, tp
Solist/Solistin: Karel Eriksson, tb
Solist/Solistin: Vasilis Koutsonanos, b
Solist/Solistin: Luis Oliveira, dr
Länge: 05:07 min
Label: Livemitschnitt

Komponist/Komponistin: Gerhard Ornig
Titel: Long Ride To Diemen
Ausführende: 4Seasons
Solist/Solistin: Gerhard Ornig, tp
Solist/Solistin: Karel Eriksson, tb
Solist/Solistin: Vasilis Koutsonanos, b
Solist/Solistin: Luis Oliveira, dr
Länge: 10:11 min
Label: Livemitschnitt

Komponist/Komponistin: Vasilis Koutsonanos
Titel: Winter, Winter
Ausführende: 4Seasons
Solist/Solistin: Gerhard Ornig, tp
Solist/Solistin: Karel Eriksson, tb
Solist/Solistin: Vasilis Koutsonanos, b
Solist/Solistin: Luis Oliveira, dr
Länge: 11:57 min
Label: Livemistchnitt

Komponist/Komponistin: Gerhard Ornig
Titel: Pentatonic
Ausführende: 4Seasons
Solist/Solistin: Gerhard Ornig, tp
Solist/Solistin: Karel Eriksson, tb
Solist/Solistin: Vasilis Koutsonanos, b
Solist/Solistin: Luis Oliveira, dr
Länge: 04:48 min
Label: Livemitschnitt

Komponist/Komponistin: Gerhard Ornig
Titel: Blues For Enter
Ausführende: 4Seasons
Solist/Solistin: Gerhard Ornig, tp
Solist/Solistin: Karel Eriksson, tb
Solist/Solistin: Vasilis Koutsonanos, b
Solist/Solistin: Luis Oliveira, dr
Länge: 05:47 min
Label: Livemitschnitt

Komponist/Komponistin: Quincy Jones
CD Titel: Quincy Jones - Walking in Space
Titel: Killer Joe
Ausführende: Graddy Tate, Paul Griffin, J.J. Johnson, Dick Williams
Länge: 05:00 min
Label: Verve 543 499-2

Komponist/Komponistin: Fields, McHugh
CD Titel: Ella And Basie
Titel: on the sunny side of the street
Ausführende: Ella Fitzgerald, voc und Count Basie, p und Begl.
Länge: 03:00 min
Label: Verve Records - 539 059-2

Komponist/Komponistin: Thomas Palme, Renate Reich
CD Titel: Renate Reich Fivetet - So full of Life
Titel: So Full of Life
Ausführende: Renate Reich Fivetett
Länge: 06:15 min
Label: ATS Records CD-0905

Komponist/Komponistin: Thomas Palme, Renate Reich
CD Titel: Renate Reich Fivetet - So full of Life
Titel: Playground
Ausführende: Renate Reich Fivetett
Länge: 04:20 min
Label: ATS Records CD-0905

Komponist/Komponistin: Lonnie Smith
CD Titel: Dr. Lonnie Smith - All in my mind
Titel: All in my Mind
Solist/Solistin: Dr. Lonnie Smith, org
Solist/Solistin: Jonathan Kreisberg, guit
Solist/Solistin: Jonathan Blake, dr
Länge: 08:15 min
Label: Blue Note 006025676218722

Komponist/Komponistin: Paul Simon
Titel: 50 Ways to leave Your Lover
Solist/Solistin: Dr. Lonnie Smith, org
Solist/Solistin: Jonathan Kreisberg, guit
Solist/Solistin: Jonathan Blake, dr
Länge: 09:15 min
Label: Blue Note 006025676218722

Komponist/Komponistin: Fats Waller
Titel: Handful of keys/instr.
Solist/Solistin: Fats Waller /Piano
Länge: 02:47 min
Label: BMG/RCA 86288 ND

Komponist/Komponistin: Fats Waller
Komponist/Komponistin: Andy Razaf
Titel: The joint is jumpin'
Ausführende: Fats Waller and his Rhythm /Gesang m.Begl.
Länge: 02:49 min
Label: BMG/RCA 86288 ND

Komponist/Komponistin: Waller/Razaf
CD Titel: Ella And Basie
Titel: Ella Aint' misbehavin
Solist/Solistin: Ella Fitzgerald, voc
Solist/Solistin: Count Basie, p
Länge: 03:10 min
Label: Verve Records - 539 059-2

Komponist/Komponistin: Fats Waller
Titel: Jitterbug Waltz/instr.
Ausführende: The Chick Corea New Trio
Ausführender/Ausführende: Chick Corea /Piano
Ausführender/Ausführende: Avishai Cohen /Bass
Ausführender/Ausführende: Jeff Ballard /Drums
Länge: 06:18 min
Label: Strech Records SCD 90352

Komponist/Komponistin: Fats Waller
Bearbeiter/Bearbeiterin: Lalo Schifrin
Komponist/Komponistin: Charlie Parker
Album: FIREBIRD / JAZZ MEETS THE SYMPHONY Nr.3
Leitung: Lalo Schifrin
Orchester: London Philharmonic Orchestra
Solist/Solistin: Lalo Schifrin /Piano
Solist/Solistin: Ray Brown /Bass
Solist/Solistin: Grady Tate /Drums
Solist/Solistin: Jon Faddis /Trompete
Solist/Solistin: James Morrison /Blasinstrument
Solist/Solistin: Paquito D'Rivera /Blasinstrument
Länge: 13:12 min
Label: East West ew 0630105132

Komponist/Komponistin: Fats Waller
Komponist/Komponistin: Ed Kirkeby
Titel: Up jumped you with love
Ausführende: Fats Waller and his Rhythm /Gesang m.Begl.
Ausführender/Ausführende: Fats Waller /Piano, Gesang m.Begl.
Ausführender/Ausführende: John Hamilton /Trompete
Ausführender/Ausführende: Al Casey /Gitarre
Ausführender/Ausführende: Gene Sedric /Saxophon
Ausführender/Ausführende: Arthur Trappier /Drums
Ausführender/Ausführende: Cedric Wallace /Bass
Länge: 03:19 min
Label: BMG/Bluebird 82876599522

Komponist/Komponistin: Fats Waller
Komponist/Komponistin: Andy Razaf
Komponist/Komponistin: Levy Webb
Komponist/Komponistin: Vincent Youmans
Textdichter/Textdichterin, Textquelle: Leo Robin
Textdichter/Textdichterin, Textquelle: Clifford Grey
Komponist/Komponistin: J.C. Johnson
Album: THE CENTENNIAL COLLECTION - FATS WALLER
Ausführende: Fats Waller and his Rhythm /Gesang m.Begl.
Ausführender/Ausführende: Fats Waller /Piano, Gesang m.Begl.
Ausführender/Ausführende: Herman Autrey /Trompete
Ausführender/Ausführende: Al Casey /Gitarre
Ausführender/Ausführende: Gene Sedric /Saxophon, Klarinette
Ausführender/Ausführende: Slick Jones /Drums
Ausführender/Ausführende: Cedric Wallace /Bass
Länge: 07:47 min
Label: BMG/Bluebird 82876599522

Komponist/Komponistin: Waller/Razaf
CD Titel: My Foolish Heart
Titel: Honeysuckle Rose
Ausführende: Keith Jarret, Gary Peacock, Jack DeJohnette
Länge: 06:20 min
Label: ECM 2021/22

Komponist/Komponistin: Waller/Razaf
CD Titel: My Foolish Heart
Titel: Aint Misbehavin
Ausführende: Keith Jarret, Gary Peacock, Jack DeJohnette
Länge: 06:00 min
Label: ECM 2021/22

Komponist/Komponistin: Fats Waller
Titel: Sweet & Slow
Solist/Solistin: Nigel Kennedy /Violine
Ausführender/Ausführende: Rolf Bussalb /Gitarre
Ausführender/Ausführende: Yaron Stavi /Bass
Ausführender/Ausführende: Krzysztof Dziedzic /Drums
Länge: 08:03 min
Label: Sony Classical 88765447272

Komponist/Komponistin: Fats Waller
Titel: I'm crazy 'bout my baby (and my baby's crazy 'bout me)
Solist/Solistin: Nigel Kennedy /Violine, Celesta
Ausführender/Ausführende: Rolf Bussalb /Gitarre
Ausführender/Ausführende: Yaron Stavi /Bass
Ausführender/Ausführende: Krzysztof Dziedzic /Drums
Länge: 06:56 min
Label: Sony Classical 88765447272

Komponist/Komponistin: George, Ellington, James, Hodges
CD Titel: Ella And Basie
Titel: I'm beginning to see the light
Solist/Solistin: Ella Fitzgerald, voc
Solist/Solistin: Count Basie, p
Länge: 03:55 min
Label: Verve Records - 539 059-2

Komponist/Komponistin: Waller/Razaf
Cd Titel: Live at the Blue Note
Titel: Honeysuckle Rose
Ausführende: Oscar Peterson Trio + Herb Ellis
Länge: 08:40 min
Label: Telarc - CD-83304

Komponist/Komponistin: Dennis/Adair
Titel: Everything happens
Ausführende: RP5 Resetarits Puschnig Quintett
Länge: 05:20 min
Label: EMARCY/Universal 159 010-2

Komponist/Komponistin: H. Ousley
CD Titel: Mr. Shing-A-Ling
Titel: The Kid
Ausführende: Lou Donaldson, Sax, und Band
Länge: 10:45 min
Label: Blue Note CDP 0777 7 84271 2 4

Komponist/Komponistin: Hancock/Hendricks
Cd Titel: The Soul of Jazz
Titel: Watermelon
Ausführende: Jon Hendricks, voc. Und Begl.
Länge: 02:45 min
Label: Verve Records - 06024 9837441

Komponist/Komponistin: Traditional
CD Titel: Frank London's Klezmer Brass Allstars Feat. Boban Markovi Orkestar& Hasaballa Brass Band- Brotherhood Of Brass
Titel: Freylekhs

Ausführende: Frank London's Klezmer Brass All Stars, Boban Markovic Orkestar, Hasaballa Brass Band
Ausführende: Frank London's Klezmer Brass All Stars,
Boban Markovic Orkestar, Hasaballa Brass Band
Länge: 05:20 min
Label: Piranha CD-PIR 1683

Komponist/Komponistin: Andre, Kahn, Schwandt
CD Titel: Ella And Basie
Titel: Dream a little Dream for me
Solist/Solistin: Ella Fitzgerald, voc
Solist/Solistin: Count Basie, p und Begl.
Länge: 04:00 min
Label: Verve Records - 539 059-2

Komponist/Komponistin: Terence Blanchard
CD Titel: Breathless
Titel: Soldiers
Ausführende: Terence Blanchard feat. The E-Collective
Länge: 01:55 min
Label: Blue Note - 0602547269393

Komponist/Komponistin: Oscar Peterson
Cd Titel: Last Call at the Blue Note
Titel: March past
Ausführende: Oscar Peterson Trio + Herb Ellis
Länge: 07:20 min
Label: Telarc - CD-83314

Komponist/Komponistin: Avery Parrish
Titel: After hours/instr.
Ausführender/Ausführende: Dizzy Gillespie /Trompete
Ausführender/Ausführende: Sonny Stitt /Tenorsaxophon
Ausführender/Ausführende: Sonny Rollins /Tenorsaxophon
Ausführender/Ausführende: Ray Bryant /Piano
Ausführender/Ausführende: Tommy Bryant /Bass
Ausführender/Ausführende: Charli Persip /Drums
Länge: 12:21 min
Label: Gitanes Jazz/Verve 5255582

Urheber/Urheberin: Traditional
Titel: Stü, stad, daß uns net draht / A guate Gsundheit/live
Ausführende: Frank London & Trachtenkapelle Rossatz /Instrumental
Ausführender/Ausführende: Frank London /Trompete und Leitung
Ausführender/Ausführende: Norbert Hauer /Gesang
Ausführender/Ausführende: Wolfgang Muthspiel /Gitarre
Ausführender/Ausführende: Otto Lechner /Akkordeon
Ausführender/Ausführende: Achim Tang /Bass
Ausführender/Ausführende: Uli Soyka /Drums
Länge: 09:57 min
Label: ORF Radio Österreich 1 CD 416 (2 CD)

Komponist/Komponistin: trad/Frank London
CD Titel: "Di Shikere Kapelye"
Titel: Medley
Ausführende: Frank London's Klezmer Brass All Stars
Länge: 05:55 min
Label: Piranha CD-PIR1467

Komponist/Komponistin: Traditional
CD Titel: Frank London's Klezmer Brass Allstars Feat. Boban Markovic Orkestar& Hasaballa Brass Band- Brotherhood Of Brass
Titel: Liebermann Funky Freylekhs
Ausführende: Frank London's Klezmer Brass All Stars,
Boban Markovic Orkestar, Hasaballa Brass Band
Länge: 06:10 min
Label: Piranha CD-PIR 1683

Komponist/Komponistin: Traditional
CD Titel: Frank London's Klezmer Brass Allstars Feat. Boban Markovic Orkestar& Hasaballa Brass Band- Brotherhood Of Brass
Titel: Doin the Oriental 2
Ausführende: Frank London's Klezmer Brass All Stars,
Boban Markovic Orkestar, Hasaballa Brass Band
Länge: 07:00 min
Label: Piranha CD-PIR 1683

Komponist/Komponistin: Traditional
Komponist/Komponistin: Jüdisch
Bearbeiter/Bearbeiterin: Frank London
Titel: Klezmer Music/instr./live
Solist/Solistin: Frank London /Trompete
Ausführende: Shikeren Kapelye
Länge: 07:32 min
Label: ORF Radio Österreich 1 CD 282

Komponist/Komponistin: Terence Blanchard
CD Titel: Breathless
Titel: Talk to me
Ausführende: Terence Blanchard feat. The E-Collective
Länge: 02:30 min
Label: Blue Note - 0602547269393
Sendereihe
Übersicht