Anna Vasof
Kommentar der Künstlerin
Ich arbeite derzeit an der Konzeption und Entwicklung innovativer Mechanismen zur Produktion kritischer und erzählerischer Videos, Aktionen und Installationen. Jede Arbeit muss für mich immer einen Überraschungsmoment erzeugen, der uns aus dem Alltag herausreißt und die Welt aus einem anderen Blickwinkel betrachten lässt.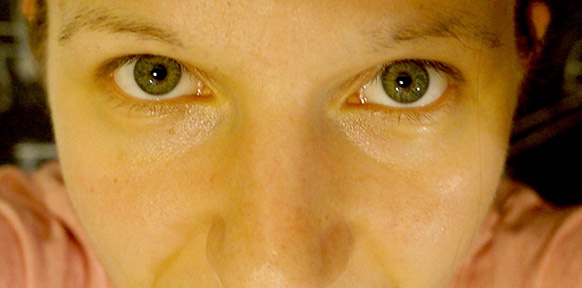 (c) Anna Vasof
Arbeitsvorhaben mit dem Stipendium
Zurzeit sind es vor allem zwei Projekte, die ich gerne umsetzen würde. Das erste ist eine Live-Performance mit dem Titel "Falling Footnotes" mit 9 bis 12 Performern, die sich mit meinen Schuh-Skulpturen (teilweise aus den Filmen "Footnotes" und "Down to Earth") bewegen und miteinander interagieren. Das zweite ist ein Episodenfilm mit dem Titel "Mechanisms of happiness", der zeigt, wie ich performative Objekte konstruiere und verwende als Parodie auf Aktivitäten oder Objekte, von denen Menschen glauben, dass sie glücklich machen.
Ausbildung
2010: Enrolment in department of Transmedia art, University of Applied arts Vienna (mag. art)

2010: Graduation as architect with distinction (diploma engineer)
Auszeichnungen
2012: Annual Serving Cocktail Robot Award for the machine T.R.E.E. in Roboexotica (Festival for Cocktailrobotics in Vienna, Austria)

2010: Representation of University of Thessaly in Archiprix 2011 at the MIT with the diploma work Under Construction

2008: Price of Human rights for the movie No entry in Camera Zizanio festival (Olymbia,Greece)

2008: Representation of Greece in Word expo the one minutes with the video Run for construction

2008: 1st price in Bene competion Vienna with the video Ben E.

2008: Scholarship from Greek film center for the program first step

2008: Representation of Greece in the Biennale of young artists Puglia 2008 with the video Artur's Klaket and Animal's War

2006: Honorable price in Crash Fest with the video Animal's war

2004: 2nd price in the festival Belle art in category video art with the video Home Homo

2000: 1st price in Student drawing contest in Greece
Ausstellungen
2014:
Performancefestival OPEN, MQ mumok Hofstallung, Vienna Austria
Design Biennale, Power Station of Arts, Shanghai, China
Standby, Lenikus Studios, Vienna, Austria
2013-14:
Electric Parade, Galerie Freihausgasse, Villach, Austria
Auf Schritt und Tritt - Schuhwerk in Kunst und Design, Museum Villa Rot, Burgrieden, Germany
2013:
XARTS 2013 Conference in Aegean University, Syros, Greece (with the research work "Yapi")
Festival Miden, Kalamata, Greece
Essence 2013, Kunstlerhaus, Vienna, Austria (with the video installation "Footnotes")
Skulpturinstitut/Die Angewandte, Vienna, Austria
2012:
Screening in Soirée de Votanique, Athens, Greece
Festival Miden, Kalamata, Greece
Arthur Schnitzler Park, Baden, Austria
embeddedinvisible,
huː fʌk off
space, Vienna, Austria
Why Art Now, Open Show Studio, Athens, Greece
Naked Fire, Kunst Pavillion, Innsbruck, Austria
2011:
Archiprix Mit, USA
Essence, MAK Museum, Vienna Austria (with the video installation "For Sale")
Attraction of the opposites, Rotterdam, Holland
2008:
Biennale of young artists Puglia 2008, Italy
Word expo the one minutes, China
Camera Zizanio, Olympia, Greece
Aza short film Festival, Thessaloniki, Greece
3d Crash Fest, Thessaloniki, Greece
2007:
2d Crash Fest, Thessaloniki, Greece
Athens video art, Athens, Greece
2006:
1st Crash Fest, Thessaloniki, Greece
2005:
2d intercultural festival Lamia, Greece
b.a.l.a., Lamia, Greece
Ausstellungen im Team
2012: Roboexotica (Festival for Cocktailrobotics, Vienna, Austria) together with Marcel Jira, Peter Regner, Jakob Unterwurzacher

Ted x Instanity Vienna under Metalab presentation

2011: Essence, MAK Museum, Vienna Austria (as Co-finder Locker Gallery Association)

2010: Athens Bench, Athens, Greece

2008: Amphitheatre Virginia, Volos, Greece

2007: 4th festival women cinema, Athens, Greece

Biennale: 1 Thessaloniki biennale of contemporary art, Thessaloniki, Greece

2005: Going Public, Larisa, Greece
Koordination/Organisation
2013: Co-finder Hummel Kino

2011: Co-finder of the Locker Gallery Assotiation

2010: 10 meters video festival

2007-2010: university video team V_idea, university video library