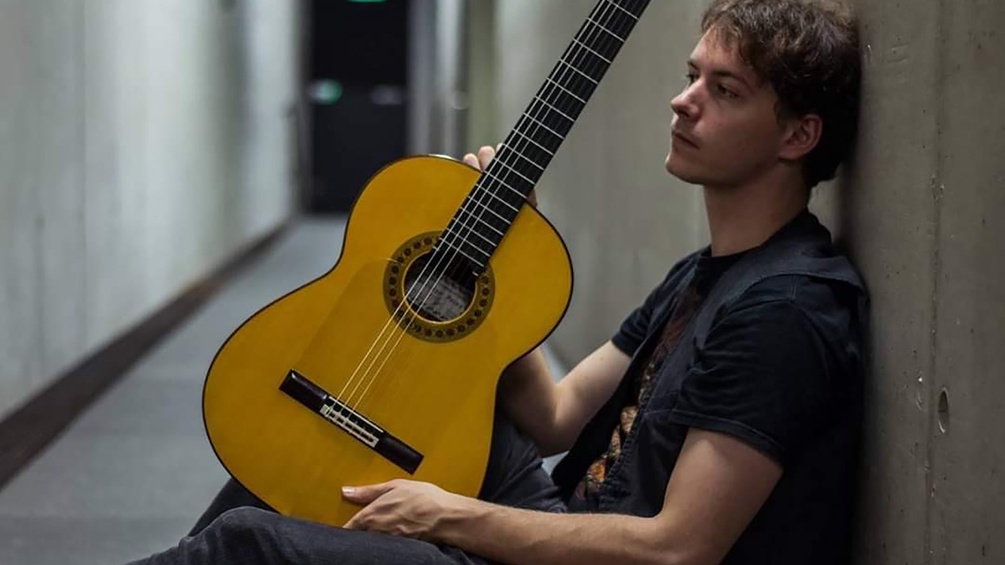 NERO
5 Millionen Pesos: Oscar Antolí. Schwerpunkt "Jazz und Kinder"
00:05 bis 01:00 Uhr
5 Millionen Pesos: Oscar Antolí und Rainer Maria Nero im Studio

"Penínsulas" hat Oscar Antolí seine Debüt-CD benannt, und die drei damit gemeinten Halbinseln; sie stehen für die wesentlichen Einflüsse der Musik des im katalanischen Tortosa geborenen, in Wien lebenden Klarinettisten: Spanien, der Balkan und Anatolien. Diese Vielfalt an Melodien und Rhythmen verschmilzt Antolí, der in Barcelona Jazz und an der Codarts Rotterdam University of the Arts türkische Musik studiert hat, mit der Improvisationslust des Jazz. Christian Bakonyi spricht mit Oscar Antolí über seine bisherigen musikalischen Stationen und sein Quartett, dem auch der Gitarrist Rainer Maria Nero angehört.


01:03 bis 03:00 Uhr
5 Millionen Pesos: Das Oscar Antolí Quartett, RadioCafe, Wien

Christian Bakonyi präsentiert das von spritziger, farbenfroher Musik geprägte Konzert des Oscar Antolí Quartetts vom 11. September 2020 im Rahmen der Reihe "5 Millionen Pesos" im Wiener RadioCafe, bei dem als Gast außerdem der aus Istanbul stammende Violinist Efe Turumtay mitwirkte.

Danach: zum Ö1 Schwerpunkt: Kinder
Jazz für und Jazz mit Kindern und Wunderkindern, mit Musik von u.a. Ella Fitzgerald, Slim Gaillard, Oscar Brown Jr., Medeski, Martin & Wood, Harry Connick Jr., Joey Alexander.


03:03 bis 05:00 Uhr
Ö1 Schwerpunkt: Kinder

Jazz mit Müttern, Vätern, Töchtern und Söhnen. Von Diknu & Joschi Schneeberger, Dominik, Florian & Martin Fuss, Judith & Gina Schwarz, Anna & Christian Maurer bis zu den Jazzgeistern von Oliver Steger.

Anschließend: Halloween

Hexen, Geister und Kürbisse, dazu Musik von Artie Shaw, Sun Ra, Duke Ellington, Freda Payne, Frank Sinatra u.a.


05:04 bis 06:00 Uhr
Erinnerungen

An den Trompeter Clifford Brown und den Saxofonisten Booker Ervin, beide wären dieser Tage 90 Jahre alt geworden, sowie an den Hammond B3-Organisten Leon Spencer.
Service
Sendereihe
Gestaltung
Übersicht
Playlist
Komponist/Komponistin: Oscar Antoli
Titel: REGROUPINGS
Solist/Solistin: Oscar Antoli, cl
Solist/Solistin: Rainer Maria Nero, g
Solist/Solistin: Marko Ferlan, b
Solist/Solistin: Carlos Ronda, dr
Länge: 04:06 min
Label: 190301 Redpmusic

Komponist/Komponistin: Tazzuff/Ferando/Mercader
Titel: KASBAH
Ausführende: Tazzuff
Länge: 04:40 min
Label: 011 Temps

Komponist/Komponistin: Bobby Timmons
Titel: DAT DERE
Ausführende: Woody Black 4, cl
Länge: 04:26 min
Label: 013 Bandc

Komponist/Komponistin: Rainer Maria Zehetbauer
Titel: VIENTO ALISIOS
Solist/Solistin: Rainer Maria Nero, g
Solist/Solistin: Oscar Antoli, cl
Solist/Solistin: Carlos Ronda Mas, dr
Länge: 06:32 min
Label: 170709 Redpmusic

Komponist/Komponistin: Oscar Antoli
Titel: TURKI BLACK 4
Ausführende: Woody Black 4, cl
Länge: 04:14 min
Label: 47357 Unit

Komponist/Komponistin: Roman Britschgi
Titel: HAYRI BAY
Solist/Solistin: Roman Britschgi, b
Solist/Solistin: Oscar Antoli, cl
Solist/Solistin: Christian Bakanic, acc
Solist/Solistin: Melissa Coleman, cello 4:53
Länge: 04:53 min
Label: 17049 Lotus

Komponist/Komponistin: Oscar Antoli
Titel: EZNO
Solist/Solistin: Oscar Antoli, cl
Solist/Solistin: Rainer Maria Nero, g
Solist/Solistin: Marko Ferlan, b
Solist/Solistin: Carlos Ronda, dr
Länge: 05:35 min
Label: 190301 Redpmusic

Komponist/Komponistin: Oscar Antoli
Titel: CERCLE DE SUD
Solist/Solistin: Oscar Antoli, cl
Solist/Solistin: Rainer Maria Nero, g
Solist/Solistin: Marko Ferlan, b
Solist/Solistin: Carlos Ronda Mas, dr
Länge: 03:34 min
Label: Manus

Komponist/Komponistin: Oscar Antolí
Titel: PENINSULAS
Solist/Solistin: Oscar Antolí, cl
Solist/Solistin: Rainer Maria Nero, g
Solist/Solistin: Marko Ferlan, b
Solist/Solistin: Carlos Ronda Mas, dr
Länge: 04:31 min
Label: Manus

Komponist/Komponistin: Oscar Antolí
Titel: AT LEOS
Solist/Solistin: Oscar Antolí, cl
Solist/Solistin: Rainer Maria Nero, g
Solist/Solistin: Marko Ferlan, b
Solist/Solistin: Carlos Ronda Mas, dr
Solist/Solistin: Efe Turumtay, vl
Länge: 06:13 min
Label: Manus

Komponist/Komponistin: Oscar Antolí
Titel: ENTREMIG
Solist/Solistin: Oscar Antolí, cl
Solist/Solistin: Rainer Maria Nero, g
Solist/Solistin: Marko Ferlan, b
Solist/Solistin: Carlos Ronda Mas, dr
Solist/Solistin: Efe Turumtay, vl
Länge: 06:18 min
Label: Manus

Komponist/Komponistin: Oscar Antolí
Titel: TORTUSSAK
Solist/Solistin: Oscar Antolí, cl
Solist/Solistin: Rainer Maria Nero, g
Solist/Solistin: Marko Ferlan, b
Solist/Solistin: Carlos Ronda Mas, dr
Solist/Solistin: Efe Turumtay, vl
Länge: 06:00 min
Label: Manus

Komponist/Komponistin: Oscar Antolí
Titel: KOPANITZA
Solist/Solistin: Oscar Antolí, cl
Solist/Solistin: Rainer Maria Nero, g
Solist/Solistin: Marko Ferlan, b
Solist/Solistin: Carlos Ronda Mas, dr
Solist/Solistin: Efe Turumtay, vl
Länge: 05:50 min
Label: Manus

Komponist/Komponistin: Oscar Antolí
Titel: VARDAR SUNSET
Solist/Solistin: Oscar Antolí, cl
Solist/Solistin: Rainer Maria Nero, g
Solist/Solistin: Marko Ferlan, b
Solist/Solistin: Carlos Ronda Mas, dr
Solist/Solistin: Efe Turumtay, vl
Länge: 06:34 min
Label: Manus

Komponist/Komponistin: Oscar Antolí
Titel: DA CAMI
Solist/Solistin: Oscar Antolí, cl
Solist/Solistin: Rainer Maria Nero, g
Solist/Solistin: Marko Ferlan, b
Solist/Solistin: Carlos Ronda Mas, dr
Solist/Solistin: Efe Turumtay, vl
Länge: 04:19 min
Label: Manus

Komponist/Komponistin: Oscar Antolí
Titel: FINISTERE
Solist/Solistin: Oscar Antolí, cl
Solist/Solistin: Rainer Maria Nero, g
Solist/Solistin: Marko Ferlan, b
Solist/Solistin: Carlos Ronda Mas, dr
Solist/Solistin: Efe Turumtay, vl
Länge: 04:58 min
Label: Manus

Komponist/Komponistin: Oscar Antolí
Titel: KAVALEJANT
Solist/Solistin: Oscar Antolí, cl
Solist/Solistin: Rainer Maria Nero, g
Solist/Solistin: Marko Ferlan, b
Solist/Solistin: Carlos Ronda Mas, dr

Komponist/Komponistin: Oscar Antolí
Titel: RONDATON
Solist/Solistin: Oscar Antolí, cl
Solist/Solistin: Rainer Maria Nero, g
Solist/Solistin: Marko Ferlan, b
Solist/Solistin: Carlos Ronda Mas, dr
Solist/Solistin: Efe Turumtay, vl
Länge: 06:02 min
Label: Manus

Komponist/Komponistin: Oscar Antolí
Titel: BRIDGING OVER THE SEA
Solist/Solistin: Oscar Antolí, cl
Solist/Solistin: Rainer Maria Nero, g
Solist/Solistin: Marko Ferlan, b
Solist/Solistin: Carlos Ronda Mas, dr
Solist/Solistin: Efe Turumtay, vl
Länge: 05:28 min
Label: Manus

Komponist/Komponistin: Oscar Antolí
Titel: CIFTEDELIC
Solist/Solistin: Oscar Antolí, cl
Solist/Solistin: Rainer Maria Nero, g
Solist/Solistin: Marko Ferlan, b
Solist/Solistin: Carlos Ronda Mas, dr
Solist/Solistin: Efe Turumtay, vl
Länge: 02:23 min
Label: Manus

Komponist/Komponistin: Trad.
Titel: OLD MACDONALD
Solist/Solistin: Ella Fitzgerald, voc
Ausführende: Marty Paich Orch.,
Länge: 02:14 min
Label: 9861754 Verve

Komponist/Komponistin: Squires/Gaillard
Titel: CHICKEN RHYTHM
Solist/Solistin: Slim Gaillard, g,voc
Ausführende: Slim Gaillard Band
Länge: 02:17 min
Label: 5897612 Verve

Komponist/Komponistin: Clark Terry
Titel: MUMBLES
Solist/Solistin: Clark Terry, tp
Solist/Solistin: Oscar Peterson, p
Solist/Solistin: Ray Brown, b
Solist/Solistin: Ed Thigpen, dr
Länge: 02:01 min
Label: 9861754 Verve

Komponist/Komponistin: Anderson/Wills, arr.:Eddie Sauter
Titel: RAG MOP
Ausführende: Lionel Hamton Orch.
Solist/Solistin: Hamp- Tones, voc
Länge: 02:45 min
Label: 9861754 Verve

Komponist/Komponistin: Bobby Timmons
Titel: DAT DERE
Solist/Solistin: Oscar Brown Jr., voc
Ausführende: Oscar Brown Jr. Band
Länge: 02:53 min
Label: 64994 Columbia

Komponist/Komponistin: Manfred Temmel
Titel: GRAZHOPPERS
Solist/Solistin: Christoph Pepe Auer, reeds
Solist/Solistin: Manfred Temmel, g
Länge: 03:33 min
Label: Manus

Komponist/Komponistin: Chris Wood
Titel: WHERE'S THE MUSIC
Ausführende: Medeski, Martin & Wood,
Solist/Solistin: John Medeski, keyb
Solist/Solistin: Chris Wood, b
Solist/Solistin: Billy Martin, dr
Länge: 03:14 min
Label: 02028611192 Little Monste

Komponist/Komponistin: M.A. Geoffrey
Titel: LET'S GO EVERYWHERE
Ausführende: Medeski, Martin & Wood,
Solist/Solistin: John Medeski, keyb
Solist/Solistin: Chris Wood, b
Solist/Solistin: Billy Martin, dr
Solist/Solistin: Tim Ingham, voc
Länge: 03:32 min
Label: 02028611192 Little Monste

Komponist/Komponistin: Freddy Cannon
Titel: WAY DOWN UNDER IN NEW ORLEANS
Solist/Solistin: Jim Duggan, tb
Solist/Solistin: Teddy Riley, tp
Solist/Solistin: Liston Johnson, cl
Solist/Solistin: Walter Payton, b
Solist/Solistin: Freddy Kohlman, dr
Länge: 02:46 min
Label: 4728082 Columbia

Komponist/Komponistin: Thelonious Monk
Titel: I MEAN YOU
Solist/Solistin: Joey Alexander, p
Solist/Solistin: Russell Hall, b
Solist/Solistin: Sammy Miller, dr
Länge: 04:15 min
Label: 23398 Motema

Komponist/Komponistin: Thelonious Monk
Titel: WELL, YOU NEEDN'T
Solist/Solistin: Brandon Goldberg, p
Solist/Solistin: Ben Wolfe, b
Solist/Solistin: Donald Edwards, dr
Länge: 04:11 min
Label: 2019 Goldberg

Komponist/Komponistin: Abbey Lincoln
Titel: PEOPLE IN ME
Solist/Solistin: Abbey Lincoln, voc
Solist/Solistin: Stanley Turrentine, sax
Ausführende: Noel Singers,
Länge: 06:15 min
Label: 5135742 Verve

Komponist/Komponistin: Rinus Steinbeck
Titel: MADE FOR WESLEY
Solist/Solistin: Diknu Schneeberger, g
Solist/Solistin: Joschi Schneeberger, b
Solist/Solistin: Martin Spitzer, g
Länge: 03:38 min
Label: 30272 O-Tone

Komponist/Komponistin: Gina Schwarz
Titel: ROAD TRIP A22
Solist/Solistin: Gina Schwarz, b
Solist/Solistin: Judith Schwarz, dr
Ausführende: Gina Schwarz Pannonica Band
Länge: 04:15 min
Label: 0072 CrackedAnegg

Komponist/Komponistin: Joe Zawinul
Titel: ONE MAN'S DREAM
Ausführende: Affäre Dreyfuss
Solist/Solistin: Martin Fuss, sax
Solist/Solistin: Dominik Fuss, tp
Solist/Solistin: Florian Fuss, sax
Solist/Solistin: Max Tschida, p
Solist/Solistin: Johannes Strasser, b
Solist/Solistin: Mario Gonzi, dr
Länge: 04:02 min
Label: 20912 Jive

Komponist/Komponistin: Anna Maurer/Christian Maurer
Titel: BEING NORBERT
Solist/Solistin: Anna Maurer, p
Solist/Solistin: Christian Maurer, sax
Solist/Solistin: Thomas Milacher, b
Solist/Solistin: Martin Kleibl, dr
Länge: 06:42 min
Label: 0934 ATS

Komponist/Komponistin: Jaco Pastorius
Titel: HAVONA
Solist/Solistin: Nina Feldgrill, b
Solist/Solistin: Robert Unterköfler, sax
Solist/Solistin: Robin Gadermaier, b
Länge: 05:21 min
Label: Lockdownhome

Komponist/Komponistin: Dave Brubeck
Titel: UNSQUARE DANCE
Solist/Solistin: Dave Brubeck, p
Solist/Solistin: Darius Brubeck, keyb
Solist/Solistin: Chris Brubeck, b
Solist/Solistin: Danny Brubeck, dr
Solist/Solistin: Randie Powell, perc
Länge: 02:43 min
Label: 1645 WoundedBird

Komponist/Komponistin: Trad.
Titel: AUF DER MAUER
Ausführende: Jakob Pocket Band
Solist/Solistin: Marina Zettl, voc
Solist/Solistin: Heimo Trixner, g
Solist/Solistin: Oliver Steger, b
Länge: 02:33 min
Label: 116755 Betz

Komponist/Komponistin: Trad.
Titel: EIN MÄNNLEIN STEHT IM WALDE
Ausführende: Jakob Pocket Band
Solist/Solistin: Marina Zettl, voc
Solist/Solistin: Heimo Trixner, g
Solist/Solistin: Oliver Steger, b
Länge: 03:34 min
Label: 116755 Betz

Komponist/Komponistin: Dave Lambert
Titel: HALLOWEEN SPOOKS
Ausführende: Lambert, Hendricks & Ross, voc
Ausführende: Ike Isaacs Trio
Solist/Solistin: Ike Isaacs, b
Solist/Solistin: Gildo Mahones, p
Solist/Solistin: Jimmy Wormsworth, dr
Länge: 02:17 min
Label: 64933 Columbia

Komponist/Komponistin: Russ Barenberg
Komponist/Komponistin: HALLOWEEN REHERSAL
Ausführende: Russ Barenberg Band
Länge: 04:17 min
Label: 11534 Rounder

Komponist/Komponistin: Sun Ra
Titel: HALLOWEEN IN HARLEM
Ausführende: Sun Ra Unity
Länge: 06:06 min
Label: 1920 Horo

Komponist/Komponistin: Artie Shaw
Titel: NIGHTMARE
Solist/Solistin: Artie Shaw, cl
Ausführende: Artie Shaw Orch.
Länge: 02:48 min
Label: 15713 Laserlight

Komponist/Komponistin: Duke Ellington
Titel: NIGHT CREATURE /STALKING MONSTER
Ausführende: Duke Ellington Orch.
Länge: 07:51 min
Label: 193 Mosaic

Komponist/Komponistin: R. Underhill
Titel: SHUFFLE MONSTER
Ausführende: The Shuffle Demons
Länge: 06:49 min
Label: 001 Stubby

Komponist/Komponistin: Vic Mizzy
Titel: THE ADDAMS FAMILY
Solist/Solistin: Debra Holly, voc
Ausführende: Debra Holly Orch.
Länge: 03:34 min
Label: 2001 Metropolitan

Komponist/Komponistin: Vince Guaraldi
Titel: THE GREAT PUMPKIN WALTZ
Solist/Solistin: David Benoit, p
Solist/Solistin: Dave Carpenter, b
Solist/Solistin: John Robinson, dr
Länge: 04:18 min
Label: 8807230454 Peak

Komponist/Komponistin: Blue Mitchell
Titel: SWEET PUMPKIN
Solist/Solistin: Freda Payne, voc
Ausführende: Manny Albam Orch.
Länge: 02:56 min
Label: 9064 Impulse

Komponist/Komponistin: Leigh/Coleman
Titel: WITCHCRAFT
Solist/Solistin: Frank Sinatra, voc
Ausführende: Nelson Riddle Orch.
Länge: 02:37 min
Label: 1010 Reprise

Komponist/Komponistin: Harburg/Arlen
Titel: DING DONG THE WITCH IS DEAD
Solist/Solistin: Ella Fitzgerald, voc
Solist/Solistin: Ted Nash, sax
Ausführende: Billy May Orch.
Länge: 03:16 min
Label: 82876724202000, Sony

Komponist/Komponistin: Donovan
Titel: SEASON OF THE WITCH
Solist/Solistin: Al Kooper,org,voc
Solist/Solistin: Steve Stills, g
Solist/Solistin: Harvey Brooks, b
Solist/Solistin: Eddie Hoh, dr
Ausführende: Al Kooper/Joey Scott, Horns
Länge: 11:07 min
Label: 33169 Columbia

Komponist/Komponistin: Barbara Thompson
Titel: POLTERGEIST
Solist/Solistin: Barbara Thompson, fl, sax
Solist/Solistin: Rod Argent, keyb
Länge: 05:25 min
Label: 2504841 MCA

Komponist/Komponistin: Rod Argent
Titel: WITH YOU
Solist/Solistin: Barbara Thompson, fl
Solist/Solistin: Rod Argent, keyb,voc
Länge: 01:15 min
Label: 2504841 MCA

Komponist/Komponistin: Kern/Harbach
Titel: YESTERDAYS
Solist/Solistin: Clifford Brown, tp
Ausführende: Neal Hefti Orch.
Länge: 02:59 min
Label: 3059 Emarcy

Komponist/Komponistin: Haggart/Burke
Titel: WHAT'S NEW
Solist/Solistin: Clifford Brown, tp
Ausführende: Neal Hefti Orch.
Länge: 03:24 min
Label: 3059 Emarcy

Komponist/Komponistin: G.Gershwin
Titel: EMBRACEABLE YOU
Solist/Solistin: Clifford Brown, tp
Ausführende: Neal Hefti Orch.
Länge: 03:00 min
Label: 3059 Emarcy

Komponist/Komponistin: Ann Ronell
Titel: WILLOW WEEP FOR ME
Solist/Solistin: Clifford Brown, tp
Ausführende: Neal Hefti Orch.
Länge: 03:25 min
Label: 3059 Emarcy

Komponist/Komponistin: Earle Hagen
Titel: HARLEM NOCTURNE
Solist/Solistin: Booker Ervin, sax
Ausführende: Teddy Edwards Orch.
Länge: 04:18 min
Label: 20172 Pacific

Komponist/Komponistin: Teddy Edwards
Titel: L.A. AFTER DARK
Solist/Solistin: Booker Ervin, sax
Ausführende: Teddy Edwards Orch.
Länge: 05:03 min
Label: 20172 Pacific

Komponist/Komponistin: Booker Ervin
Titel: NO BOOZE BLUES
Solist/Solistin: Booker Ervin, sax
Solist/Solistin: Carmell Jones, tp
Solist/Solistin: Gildo Mahones, p
Solist/Solistin: Richard Davis, b
Solist/Solistin: Alan Dawson, dr
Länge: 15:40 min
Label: 7340 Prestige

Komponist/Komponistin: Leon Spencer
Titel: CURTIS' SONG
Solist/Solistin: Lou Donaldson, sax
Solist/Solistin: Leon Spencer, org
Solist/Solistin: Ted Dunbar, g
Solist/Solistin: Blue Mitchell, tp
Solist/Solistin: Idris Muhammad, dr
Länge: 05:45 min
Label: 84359 Blue Note

Komponist/Komponistin: Leon Spencer
Titel: HIP SHAKER
Solist/Solistin: Leon Spencer, org
Solist/Solistin: Melvin Sparks, g
Solist/Solistin: Dave Hubbard, sax
Solist/Solistin: Idris Mahammad, dr
Länge: 03:50 min
Label: 10042 Prestige

Komponist/Komponistin: Leon Spencer
Titel: FIRST GRAVY
Solist/Solistin: Leon Spencer, org
Solist/Solistin: Virgil Jones, tp
Solist/Solistin: Grover Washington Jr. sax
Solist/Solistin: Melvin Sparks, g
Solist/Solistin: Idris Muhammad, dr
Solist/Solistin: Buddy Caldwell, conga
Länge: 03:55 min
Label: 1011 Prestige

Komponist/Komponistin: Leon Spencer
Titel: WHERE I'M COMING FROM
Solist/Solistin: Leon Spencer, org
Ausführende: Leon Spencer Band
Länge: 05:35 min
Label: 10063 Prestige
weiteren Inhalt einblenden