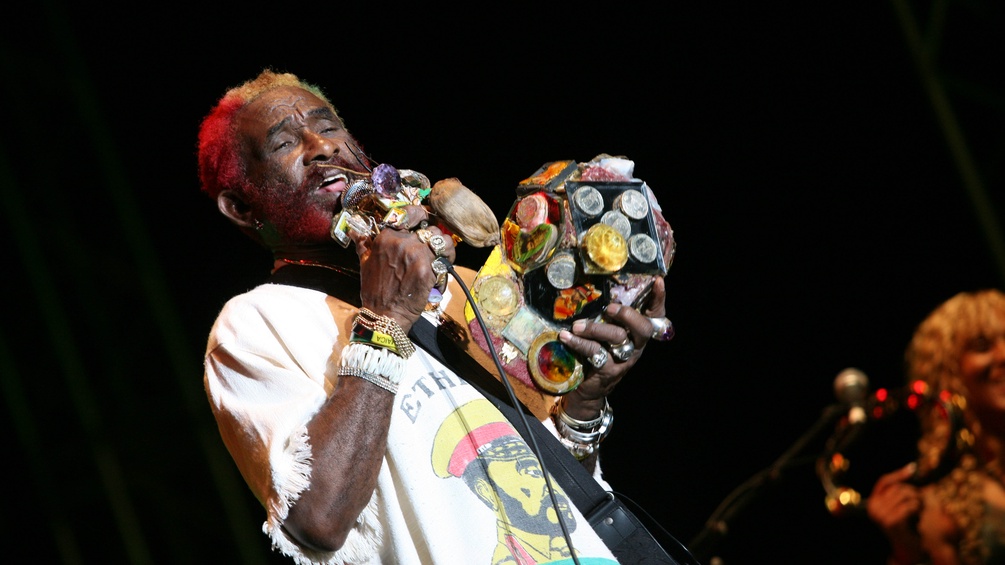 AFP/RICHARD BOUHET
Ein Reggae & Dub Happening mit dem Jamaikaner Lee Scratch Perry
Erst war es nur ein lokaler Rhythmus, der zum globalen Phänomen und jüngst gar zum immateriellen Weltkulturerbe erhoben wurde. "Reggae ist eine Musik, in der eine Menge Kampf steckt. Aber nur die Musik sollte kämpfen, nicht die Menschen!" Das sagte niemand geringerer als Bob Marley, der König des Roots-Reggae. Er ist wohl der Hauptverantwortliche dafür, dass die "Drum-&-Bass-Music" von der Karibikinsel Jamaika bis in die entlegensten Gegenden der Welt vordrang.

Mit dem Reggae verbreitete sich auch die Glaubenslehre der Rastafaris, die den äthiopischen Kaiser Haile Selassie als eine Art schwarzen Messias verehren und auf eine Rückkehr ins afrikanische Ursprungsland hoffen. Heute ist Reggae längst eine musikalische Lingua franca geworden, die in der ganzen Welt gesprochen und verstanden wird. Unzählige Wiederveröffentlichungen von Reggae-Musiken aus den 1970er Jahren, aber auch zeitgenössische Produktionen zeugen von der ungebrochenen Popularität der aus dem Rocksteady und Ska entstandenen Musik - sei es der aus der Rastafari-Philosophie religiös motivierte Roots-Reggae oder der aus den B-Seiten der jamaikanischen Singles entstandene, echolastige Dub, dessen uneingeschränkte Ikone wohl der just in der Schweiz lebende, eigenwillige Jamaikaner Lee Scratch Perry ist.
Service
Film: "Inna de Yard - The Soul of Jamaica"

"Reggae. The Rough Guide. The Definitive Guide to Jamaican Music, from Ska through Roots to Ragga". Steve Barrow, Peter Dalton. Rough Guides, London 1997

"Dub. Soundscapes & Shattered Sounds in Jamaican Music". Michael E. Veal. Wesleyan University Press, Middletown 2007

Aus rechtlichen Gründen kann "Diagonals feiner Musiksalon" nicht zum Download angeboten werden.
Sendereihe
Gestaltung
Playlist
Komponist/Komponistin: Lee Scratch Perry
Album: Rainford
Titel: African Starship
Ausführende: Lee Scratch Perry/A.Sherwood
Länge: 02:45 min
Label: On-U Sound

Komponist/Komponistin: Lee Perry
Album: Roast Fish Collie Weed & Corn Bread
Titel: Roast Fish & Cornbread
Ausführende: Lee Scratch Perry
Länge: 01:40 min
Label: VP Records/Lion of Judah

Komponist/Komponistin: Lee Scratch Perry
Album: Revolution Dub
Titel: Kojak
Ausführende: Lee Perry & The Upsetters
Länge: 01:20 min
Label: Rhino Records

Komponist/Komponistin: Lee Scratch Perry
Album: Soul Adventurer - The Complete Lee Scratch Perry Session
Titel: Soul Rebel
Ausführende: The Upsetters
Länge: 02:30 min
Label: JAD Records

Komponist/Komponistin: The Upsetters
Album: Super Ape & Return Of The Super Ape
Titel: Dread Lion
Ausführende: The Upsetters
Länge: 02:30 min
Label: Island Records

Komponist/Komponistin: Lee Perry & The Full Experience
Album: Disco Devil (The Jamaican Discomixes)
Titel: Disco Devil
Ausführende: Lee Perry & The Full Experience
Länge: 03:00 min
Label: Universal UMC, Black Art

Komponist/Komponistin: Lee Scratch Perry
Album: Chicken Scratch
Titel: Chicken Scratch
Ausführende: Lee Scratch Perry
Länge: 02:55 min
Label: Heartbeat/Studio One

Komponist/Komponistin: Lee Scratch Perry
Album: The Upsetter Collection
Titel: The Vampire
Ausführende: The Upsetter
Länge: 02:30 min
Label: Trojan Records

Komponist/Komponistin: Bob Marley
Album: Riding High
Titel: Duppy Conquerer
Ausführende: Bob Marley
Länge: 03:00 min
Label: Everest Records

Komponist/Komponistin: Lee Scratch Perry
Album: Blackboard Jungle Dub
Titel: Black Panta
Ausführende: Lee Perry & The Upsetters
Länge: 02:30 min
Label: Auralux Recordings

Komponist/Komponistin: Lee Scratch Perry
Album: Jamaican E.T.
Titel: Jamaican E.T.
Ausführende: Lee Scratch Perry
Länge: 02:25 min
Label: Music On Vinyl, Trojan Records

Komponist/Komponistin: Lee Perry / Mad Professor
Album: Experryments At The Grass Roots Of Dub
Titel: Jungle Roots Dub
Ausführende: Lee Perry / Mad Professor
Länge: 02:50 min
Label: Ariwa

Komponist/Komponistin: Lee Scratch Perry
Album: Heart Of The Congos
Titel: Fisherman (Dub Colossus Selected Cut)
Ausführende: The Congos/Lee Scratch Perry
Länge: 03:30 min
Label: Blood & Fire
weiteren Inhalt einblenden